We are owned and operated by GoodMorning.com. We hire 3rd-party engineers and use public data to rate mattresses on over 30 criteria that we believe are important. Brands we own— Brunswick, Douglas, Juno, Logan & Cove, Novosbed, Podium, and Recore—are reviewed and advertised where indicated. Views expressed here are our opinions only. Full details.
Finding the perfect bed is like finding the holy grail of comfort and support. But with so many sizes available, shopping can feel like navigating a mattress maze.
Fear not—we've got your back (and your side and stomach).
In this guide, we're diving headfirst into the world of mattress sizes, unravelling each size one dimension at a time. We'll also share insider tips on choosing the best size for your needs.
Whether you're a sprawling starfish sleeper or a cozy curler-upper, consider this your ultimate guide to finding the bed size that will whisk you away to dreamland.
Mattress Size Chart: A Quick Comparison
In Canada, you'll typically encounter six main mattress sizes widely available from various manufacturers. To help you visualize your "sleep real estate," check out this handy mattress size chart:
| Size | Dimensions (Width x Length) | Surface Area (Square Inches) |
| --- | --- | --- |
| Twin / Single | 38" x 75" | 2,850 |
| Twin XL | 38" x 80" | 3,040 |
| Full / Double | 53" x 75" | 3,975 |
| Queen | 60" x 80" | 4,800 |
| King | 76" x 80" | 6,080 |
| California King | 72" x 84" | 6,048 |
Standard Mattress Sizes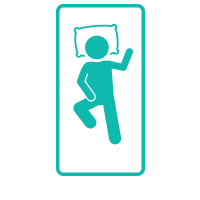 Twin / Single Mattress Size
Dimensions: 38″ x 75″
This is the smallest and most budget-friendly mattress size available. Perfect for kids and single sleepers, the Twin is ideal for homes with limited space. It's also commonly used for bunk beds, daybeds, guest rooms, and dorm rooms. Ultimately, the Twin provides a minimal sleep surface without taking up too much physical space.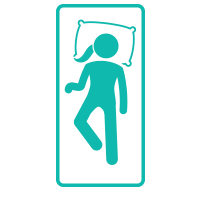 Twin XL Mattress Size
Dimensions: 38″ x 80″
If you find a regular Twin bed a bit short for your liking, the Twin XL is the perfect solution. It is the same width as a Twin but five inches longer. As such, it's suitable for taller people who need more legroom or space to stretch out. This versatile mattress fits well in a child's bedroom or a dorm room.
Two Twin XL mattresses are also the same size as one king size. If you're interested in a split-king adjustable bed, with individual controls for you and your partner, two Twin XL mattresses are the perfect solution.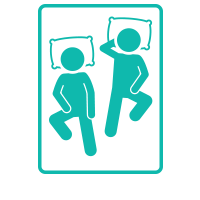 Full / Double Mattress Size
Dimensions: 53″ x 75″
This mattress size provides significantly more sleep surface than the Twin or Twin XL. As such, it is ideal for single adults who need a bit more sleep space. It's also useful for individuals or couples with limited bedroom space or smaller living quarters. A Double will also fit in most guest rooms and dorm rooms.
If you have a young child, it may be more budget-friendly to bypass a Twin and go straight to a Double following their "crib years." Since they will inevitably outgrow a Twin, this helps you avoid the hassle of buying two mattresses within a brief timespan.
Do you tend to toss and turn in bed? Have a partner or pet who loves sleeping next to you? A Double may be a good option. However, if you plan on sharing your bed with a significant other and a furry friend, sleeping arrangements may feel a bit snug.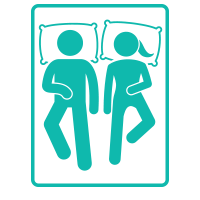 Queen Mattress Size
Dimensions: 60″ x 80″
A crowd favourite, the Queen mattress size is one of the most popular choices. At 4,800 square inches, it offers an ideal combination of space and size. Plus, it's the most affordable option among the "big" mattresses.
With a Queen, you get plenty of sleeping space without feeling too big and bulky. As such, it strikes the perfect balance between providing enough room to stretch out comfortably while still fitting into most bedrooms.
Despite its compact design, the Queen provides enough room for two adults to sleep side-by-side without feeling cramped. It's also a common mattress choice for single adults and teens.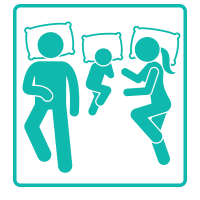 King Mattress Size
Dimensions: 76″ x 80″
With over 6,000 square inches of sleep space, the King is Canada's largest standard bed size. Two adults can easily get their own sleeping space, allowing for maximum freedom of movement. Plus, if you have a pet or child who occasionally joins you, the King offers enough room for everyone to snuggle up.
If you have a master bedroom, the King size fits perfectly while enhancing the overall aesthetic.
While the King is generally made for more than one sleeper, single adult sleepers may also enjoy the generous dimensions of this mattress size.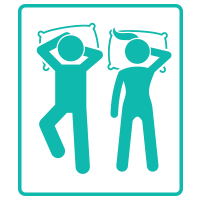 California King Mattress Size
Dimensions: 72″ x 84″
The California King is specifically designed for tall people. With four additional inches of legroom, this size provides the necessary length to ensure your feet won't hang off the end of the bed.
Note that this mattress offers slightly less sleep surface than a regular King-sized mattress.
The California King size mattress is also well-suited for narrow bedrooms. Because of its slimmer profile, it may fit more seamlessly into rooms with limited space.
Winner!
2021 Product of the Year™
Voted the top choice overall in the Mattress-in-a-Box category through a survey of 4,000 Canadians by Kantar.
| | Douglas |
| --- | --- |
| Rating (/10) | 9.9 |
| Price (Queen) | $799 |
| Number of Standard Sizes | 7 |
| Number of RV Sizes | 3 |
| Made in Canada | |
| Cooling Gel Foam | |
| Trial (Nights) | 365 |
| Warranty (Years) | 20 |
Other Mattress Sizes
While standard bed sizes are widely known, a treasure trove of alternative sizes also exists for catering to specific needs. We have listed a few below:
Split King (38" x 80" multiplied by 2)
Technically, a Split King set-up involves two Twin XL mattresses on an adjustable bed frame. Each side of the bed can operate independently, benefiting couples with different sleeping preferences and needs.
Side-by-side, both mattresses comprise 6,080 square inches of sleep space—the same surface as a standard King.
When it comes to recreational vehicles (RVs), every inch of space counts. Manufacturers create custom-sized mattresses to maximize the compact space in RV bedrooms or sleeping areas without wasting any valuable square footage.
Some popular RV mattress sizes include:
RV Bunk (28" x 75")—a narrower version of a standard Twin, albeit the same length
RV Three-Quarter (48" x 75")—similar length to a Full, but several inches less in width
RV Short Queen (60" x 75")—the same width as a standard Queen, but five inches shorter
If you're looking for a budget mattress that meets your RV needs, we recommend Juno. The Juno RV mattress starts at C$399, comes with a 120-night sleep trial, and includes a FREE mattress protector.
However, if you have a couple hundred more dollars to spend, the entire Douglas mattress collection is available in RV mattress sizes. For additional features like best-in-class motion isolation and a machine-washable cover, the Douglas Original RV retails at a reasonable C$599 for the smallest size.
To seal the deal, Douglas offers a very competitive 365-night sleep trial, a 20-year warranty, and a FREE bedding bundle with every mattress purchase.
Choosing the Best Mattress Size for You
When it comes to choosing the right mattress size for your needs, there are a few important factors to consider.
Budget
When it comes to mattresses, bigger often means pricier. That's because larger sizes require more materials for construction. If your budget is tight and your heart is set on a bigger mattress, consider going the mattress-in-a-box route. Online retailer Juno sells mattresses at much lower prices than comparable mattresses.
If you're looking for the best Canadian mattresses, consider our top picks. All three offer a 365-Night Sleep Trial, FREE bedding with mattress purchase, and priced under $1,000 for a Queen!
Sleeping Preferences
Are you a sprawler or a cuddler? Do you stay in one position all night or find yourself frequently changing positions? And what of your sleep partner? If one or both of you like having the freedom to move around, a King or California King could be a game-changer. But if you revel in the intimacy of the person next to you, a Queen might be ideal.
People and Pets
Selecting the right mattress size isn't always just about your sleeping preferences—it's also about the sleeping preferences of your loved ones. Don't forget to consider the number of people and pets sharing your bed either.
Your ideal mattress should offer ample room for everyone, ensuring a peaceful sleep without feeling cramped or squeezed. If you're sharing a bed, consider one with great motion isolation like Douglas, so you don't feel your partner or pets moving around at night.
Body Size and Height
Finding the perfect bed size for your body means waking up refreshed and ready to conquer the day. That means taking your size and height into account.
Taller individuals may find a Twin XL or California King size more suitable for their frame. In contrast, heavier-set individuals may prefer a Queen or King size for added width.
Bedroom Space
Every room needs space to move freely. Be sure to grab your measuring tape and take note of the room's dimensions. Consider other furniture like bedside tables and dressers too. A Twin or Full mattress might be your best bet if things are a bit snug. But if you've got room to spare, why not go for the grandeur of a Queen, King, or California King?
Moving Your Mattress
First, consider where the mattress will be going. Is it on a higher floor of your home? Will it need to navigate narrow staircases and door frames? These hurdles can turn into roadblocks, especially for larger beds. So, take a moment to visualize the journey and assess any potential obstacles before deciding.
Meanwhile, weight matters too! Some mattresses can be quite heavy. Consider if you have the muscle power to move it yourself or need some helping hands.
Next Steps
Your mattress size plays a crucial role in determining your overall sleep quality and well-being. Whether you sleep solo or share your bed, there's a size out there that's just right for you.
Choosing your ideal bed size isn't just about personal preference—there are plenty of other factors to consider, like your sleeping habits and bedroom dimensions. Don't forget to factor in your body size, specific comfort needs, and budget.
To narrow down the choices, we've compiled our top picks for the best Canadian mattresses that rank highest in comfort, features, and value while also being offered in all six standard mattress sizes. Keep scrolling to see which mattresses made the list!