Disclaimer: We are owned and operated by GoodMorning.com. We hire 3rd-party engineers and use public data to rate mattresses on over 30 criteria that we believe are important. Brands we own—Apollo, Brunswick, Cherry, Douglas, Juno, Octave, Logan & Cove, Novosbed, Podium, and Recore—are reviewed and advertised where indicated. Views expressed here are our opinions only. Full details.
Made In
Canada
Made In
Canada
Disclaimer: We are owned and operated by GoodMorning.com. We hire 3rd-party engineers and use public data to rate mattresses on over 30 criteria that we believe are important. Brands we own—Apollo, Brunswick, Cherry, Douglas, Juno, Octave, Logan & Cove, Novosbed, Podium, and Recore—are reviewed and advertised where indicated. Views expressed here are our opinions only. Full details.
Simba 2500 Mattress Review (2023)
The Simba 2500 is a four-layer hybrid mattress. In Canada, it is sold through Sleep Country. 
One firmness option 
Delivered in a box 
Company HQ based in the UK
Key Features
Four layers
12-inch height
Graphite-infused memory foam
Antimicrobial top cover
Sold online or through Sleep Country
Free shipping*
100-night sleep trial (exchange only)
10-year warranty
* Fees may apply for some remote locations.
Is the New Simba 2500 Better Than the Original?
Simba was already an established brand in the UK before Sleep Country brought it to Canada in 2018. Despite sharing a name, the European and Canadian versions aren't exactly alike.
In mid-2020, Simba's Canadian operations underwent a considerable change in manufacturing. The Simba 2500, the latest version and the second tested by Mattress-Reviews.com, is no longer made in China. The Sleep Country version is now made in Canada, along with a few key changes to the construction of the mattress.
The most noticeable difference between the two versions is the mattress's firmness. The original Simba model was the firmest mattress ever tested by Mattress-Reviews.com thanks to a rigid, synthetic latex top layer. The new version has a memory foam top layer and is markedly softer. This change may appeal to a specific shopper looking for a very soft, enveloping mattress. However, heavier people or sleepers who require firm support will likely be disappointed with the new feel.
At $1,499 CAD for a queen, Simba is priced higher than some other Canadian-made hybrids, like Logan & Cove ($1,299 CAD).
You'll Like This Mattress If You Want…
A soft mattress with lots of 'hug'

A micro-coil hybrid mattress 

Good motion isolation 

A mattress delivered in a box

A mattress manufactured domestically 

White glove delivery (through Sleep Country)
Skip Simba 2500 If You…
Want a firm mattress

Require strong edge support 

Sleep primarily on your back or stomach 

Want to feel like you are sleeping on top, not in, your mattress

Need a California King size
You May Prefer – Logan & Cove
CYBER THURSDAY SALE!
Get FREE Sheets, Pillows, Pillow Protectors, and Mattress Protector with Mattress AND MORE! ($400 Value for Queen)
Sale ends November 30th. See website for details >
| | Logan & Cove | Simba 2500 |
| --- | --- | --- |
| Price (Queen) | $999 | $1,649 |
| Rating (/10) | 9.4 | 6.6 |
| Made in Canada | | |
| Full Refunds | | |
| Free Returns | | |
| Trial (Nights) | 365 | 100 |
| Warranty (Years) | 15 | 10 |
Table of Contents
Jump to any section by clicking the links below:
First Impressions: Straight out of the Box
The Arrival 
Simba is available for purchase online and at Sleep Country. It is delivered free of charge throughout most parts of Canada. The company instructs anyone living in the Northwest Territories, Yukon, Nunavut, Newfoundland and Labrador, or any remote area to contact customer service for shipping options, as there may be a service fee of $120 CAD. 
The mattress arrives in a large cardboard box that requires two people to move. However, the box does have handles that make it easier to carry. Simba typically ships within 3–10 business days. 
The Unboxing
Like other boxed mattresses, Simba is simple to unbox. The company includes a set of instructions to follow, along with a plastic cutting tool. Once out of its packaging, the mattress should fully expand within a few hours.
The Look 
Simba is a simple, attractive looking mattress. Like other online brands, Simba has opted for a two-tone cover design, with a white knit top and blue woven base.
The Feel 
The Simba mattress feels much more like an all memory foam mattress than a spring hybrid. This is because Simba uses micro-coils. Unlike the classic spring and hybrid mattresses whose bottom support layers are formed by robust, six to eight-inch springs, Simba's micro-coils mainly help with pressure relief and ventilation. As weight is applied to the mattress, the memory foam slowly and gradually compresses into the lower layers. This gives a slight sinking feeling when you sit or lay on the mattress. The soft sleep surface has a noticeable 'hug,' which keeps you from easily moving around the surface of the bed.
Official Test Results: How Do Engineers Rate the Simba Mattress?
The following results were determined by licensed 3rd-party engineers, commissioned by us:
To be able to accurately rate and compare the performance of the mattresses reviewed on this website, it was necessary to hire licensed 3rd-party engineers. Their independence and operating standards help to ensure the results remain unbiased, valid, and reliable. Each mattress was evaluated using the same strict methodology to protect the overall integrity of the results. The full report is linked below and has been given the official stamp of approval from an APEGA-certified engineer operating under a strict ethical code of conduct.
*Be advised: Mattress testing conducted outside of this professional standard poses a greater risk of validity errors or reviewer bias.*
How Our Engineers Test Each Mattress:
| Test Scores | Simba 2500 |
| --- | --- |
| Firmness: | 3.2 / 10 |
| Edge support: | 3.1 / 10 |
| Motion isolation: | 6.6 / 10 |
| Bounce: | 4.4 / 10 |
Feel & Firmness
The updated Simba 2500 has a noticeably softer feel than the previous version. The memory foam top layer has a significant amount of 'hug,' which will appeal to anyone looking for a soft, enveloping mattress. The previous Simba model had a synthetic latex top layer, with the memory foam below the micro-coils, giving it a much firmer and bouncier sleep surface. The new Canadian Simba feels like an entirely different mattress. The mattress's softness gives the top layer a noticeable hug once you settle in.
Lighter weight sleepers may prefer a softer mattress and should take a closer look at the Simba. However, if you weigh more than 150 lbs, you may find that you sink a bit more than you might like. This will be especially concerning for back or stomach sleepers, who typically require a bit more firmness to sleep comfortably.
Edge Support
Hybrid mattresses are popular among shoppers looking for a bed with strong edge support because the spring or coil layers often provide additional stability at the side walls. While the previous Simba model tested by Mattress-Reviews.com ranked high in edge support (8/10), the new model experienced a lot of sinkage during the engineer tests.
A lack of stability at the sidewalls can cause problems for sleepers who struggle to get out of bed. People with limited mobility may want a mattress with better edge support.
Motion Isolation
Simba received an above-average motion isolation score. The memory foam top layer absorbs movement at the surface, while the micro-coils compress individually to limit motion transfer. At 6.6/10, Simba is a good option for couples. If motion isolation is important to you, we recommend the Logan & Cove (read review), which received top marks for motion isolation during third-party engineer testing.
Bounce
Mattresses with memory foam typically receive low scores in the bounce test. At 4.4/10, Simba is pretty standard in terms of bounce for a mattress with multiple layers of foam.
Mattress Construction: What's Simba Made Of?
Construction
Simba 2500
Mattress height:
12"
Number of layers:
4
Comfort layer:
1" Simbatex memory foam
Transition layers:
1" pocketed micro-coils;
3.5" polyurethane foam
Support layer:
6.5" support foam
Cover materials:
Polyester, elastane
Machine washable:
No
Made in:
Canada
Simba is made up of four layers. Like other hybrid mattresses on the market today, the layers in the Simba mattress work together to provide an overall level of comfort and support.
Of note: Simba does not publicly disclose foam density. When Mattress-Reviews.com contacted Simba customer support, they could not provide the foam density for any of their layers.
First layer: 1 inch of graphite infused memory foam.

This layer provides comfort and contouring. The change from a synthetic latex in the original Simba to memory foam is likely a cause for the significant difference in firmness. Memory foam has a much higher degree of sinkage than a springier material like latex. Because memory foam tends to trap heat, Simba has added graphite flakes in the foam to help with temperature control.

Foam density: Unspecified.
Second layer: 1 inch of micro-coils.

Simba's coil layer helps with motion isolation. The hollow channels in the springs also aid in temperature regulation by improving airflow throughout the mattress.
Third layer: 3.5 inches of high-density foam.

This layer provides additional stability to the mattress and is reinforced at the perimeter for edge support. Foam density: Unspecified.
Fourth layer: 6.5 inches of support foam. This bottom layer makes up the foundation of the mattress and keeps you from sinking in too deep. It also includes horizontal air channels that divide the mattress into seven zones, promoting spinal alignment and pressure-point relief.

 Foam density: Unspecified. 
Simba's top cover is made primarily of polyester and contains a small amount of elastane for stretch. Synthetic materials tend to be less breathable than natural or plant-derived fibres like Tencel® or cotton.
Unlike other bed-in-a-box brands, including Douglas and Bloom, Simba does not list any eco-conscious fabrics in their outer layer construction. However, Simba does promote the antimicrobial benefits of its top cover. Unlike competitor Octave, the Simba mattress cover is not machine-washable. Customers who value the ability to easily clean their mattress should consider buying a mattress with a removable and machine-washable cover.
Brand Bio: What's the Story Behind Simba?
| Company Overview | Simba |
| --- | --- |
| Launched: | 2016 |
| BBB Rating: | N/A |
| Made in: | Canada |
| Company HQ: | London |
| Ownership: | Private, Canadian operations are managed through Sleep Country |
| Where to buy: | Online or Sleep Country |
Though Simba's parent brand has ties to the textile industry dating as far back as 1979, its tight-top mattress launched the company to prominence. The Simba mattress, as we know it today, launched in the UK in 2016. It quickly took off in Europe before being brought to Canada by Sleep Country. The European versions of the Simba mattress are made in both the UK and Poland. In 2020, however, the brand moved manufacturing for all its Canadian orders from China to Canada. 
Simba is a European product available worldwide. In Canada, Simba is available through Sleep Country. Because of its exclusive contract with Sleep Country, Simba's Canadian customer service is managed by the retail chain's support team.
Delivery, Sleep Trial & Returns
| Delivery, Trials & Returns | Simba |
| --- | --- |
| Shipping cost: | Free shipping ($120 CAD shipping fee for select areas) |
| Shipping time: | 3–10 days |
| Sleep trial length: | 100 nights |
| Return ease: | Company picks up |
| Refund: | Exchange only |
| Additional fees: | $50 CAD exchange fee |
The Simba mattress we tested was delivered by FedEx. Shipping is free for most Canadians except those living in the Northwest Territories, Yukon, Nunavut, Newfoundland and Labrador. Customers can expect to receive their new mattress within ten business days.
Sleep Country offers a 100-night comfort guarantee. This is when the buyer can try out the mattress at home before deciding to keep it. At 100 nights, this sleep trial is average in length. Sleep Country and Simba differ in two ways from other brands in the bed-in-a-box space in regards to the limitations of their exchange policy:
The Simba mattress

can only be returned to Sleep Country for an in-store credit.
Customers who decide to return the Simba must pay an exchange fee of $50 CAD to cover the delivery of a new item and removal of the returned mattress. This approach to sleep trials and returns is different from mattress brands like Logan & Cove, who offer an industry-leading 365-night trial and free returns. 
It is worth noting that Mattress-Reviews.com did not complete the return process but received this information via the live chat function on Simba's website.
Social & Environmental Impact
| Eco-Consciousness | Simba |
| --- | --- |
| Green policies: | Mattress recycling program |
| Social responsibility: | Some returned mattresses are donated to charity |
| Box materials: | Bleached cardboard, colored ink |
| Cover materials: | Polyester, elastane |
| CertiPUR-US®: | Yes |
| Green manufacturing: | Unknown |
Price and Size Listings: Simba
Twin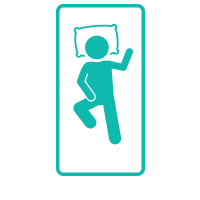 39″ x 75″ x 12″
$1,099 CAD
Twin XL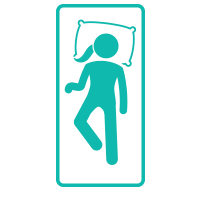 39″ x 80″ x 12″
$1,229 CAD
Double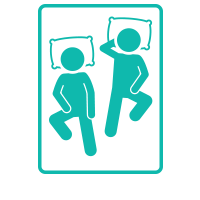 54″ x 75″ x 12″
$1,499 CAD
Queen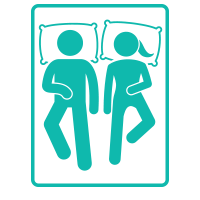 60″ x 80″ x 12″
$1,649 CAD
King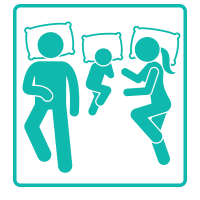 76″ x 80″ x 12″
$1,879 CAD
Rating Breakdown: How Simba Measures Up
We hire 3rd-party engineers and use public data to rate mattresses on over 25 criteria.
Where Simba Gains Points
Made in Canada

Free shipping to major metro areas

Convenient boxed delivery

CertiPur-US® certified foams

Graphite-infused foam

Pocketed micro-coils

Arranged return pickup

10-year warranty

10,000+ verified customer reviews
Where Simba Could Improve
Increased edge support

Offer free returns
Allow shoppers a full refund instead of an exchange
More than one firmness option
Final Thoughts on Simba
In Europe, Simba is an established name that can demand a premium price. It makes sense that Sleep Country would acquire the brand as part of its ongoing focus to compete with popular online mattress brands like Douglas or Casper. 
Now that the Sleep Country Simba is made in Canada, the price tag may be easier to justify than the previous, made in China model. However, the drastically lower firmness and edge support scores could be unacceptable for some sleepers. 
If you like a soft mattress with a lot of 'hug,' Simba is a good option. It is a well-made mattress that uses quality materials. The hypoallergenic mattress cover, graphite-infused foam, and micro spring layer are nice features that shoppers have come to expect from mattresses at that price point.  
Simba is a quality mattress, but it's missing some of the premium features that would set it apart from some of its competitors in its price range. If you're looking for a premium hybrid mattress, you should also take a look at the Logan & Cove ($999 CAD), which has an additional cooling comfort layer, zoned coils for pressure-point relief, and the great motion isolation scores.
For more options at all price points, check out our list of Best Mattresses.