Disclaimer: We are owned and operated by GoodMorning.com. We hire 3rd-party engineers and use public data to rate mattresses on over 30 criteria that we believe are important. Brands we own – Apollo, Brunswick, Cherry, Douglas, Juno, Logan & Cove, Novosbed, Podium, and Recore – are reviewed and advertised where indicated. Views expressed here are our opinions only. Full details.
Overall Rating
The Helix mattress is a customizable bed-in-a-box, one which delivers a different mattress feel and firmness for each customer based on results from their online questionnaire. Helix competes directly with online-only brands, including Douglas and Novosbed, for customers who enjoy the convenience of shopping online. The Helix mattress is made in USA, retails at around $1,300 CAD for a queen, and can be returned within its 100-night trial period.
Firmness
The Helix mattress has several firmness options. Being a customizable hybrid mattress, the firmness varies. For testing purposes, we selected a configuration most similar to what your average sleeper might enjoy. We selected a Helix mattress with medium firmness, strong support, moderate cooling, and moderate elasticity. Testing carried out by our independent contract engineers places the Helix mattress at 6.1 out of 10 on the firmness scale.
Pros
Delivered in a box

Online sleep style assessment

100-night sleep trial

Machine-washable cover

Available to try in store in New York area
Cons
Higher priced bed-in-a-box
Cannot adjust firmness after purchase
$150 shipping fee to Canada
Below-average edge support scores
Limited cooling properties
The Novosbed is our Top Pick for PREMIUM MATTRESS UNDER $1,500. Novosbed is a high-quality, affordable, and extremely comfortable bed-in-a-box mattress. Each Novosbed purchase comes with a 120-night trial with a full-refund guarantee. Novosbed has more firmness options and even offers a free comfort adjustment kit with every mattress.
Table of Contents
Jump to any section by clicking the links below:
How we reviewed the Helix mattress
As with all mattress reviews and comparisons on Mattress-Reviews.com, GoodMorning.com Inc. tests major online mattress brands in order to continually update and improve its own products. Analyzing the builds, brands, and specifications of competitor mattresses ensures GoodMorning.com always offers the best possible value to its customers.
To provide a consistent benchmark for our tests, we commission third-party engineers to test every mattress in the exact same way. You can view the methodology of testing and the APEGA-stamped results document here.
Without further ado, our Helix Mattress Review:
Helix Mattress: Company Overview
Company Overview
Helix
Launched:
2015
Price (Queen):
$995 USD
$1,300 CAD
Available in:
USA, Canada
Made in:
USA
Trial length:
100 nights
Warranty:
10 years
Where to buy:
Online; showroom (NYC)
The Helix mattress was first introduced in 2015. Its primary selling feature is certainly its customization. Before purchasing you are asked to complete an online quiz that asks for your unique physical description and sleep tendencies. Based on this information, your ideal mattress is recommended. Helix expanded into the Canadian market in January 2016.
Helix Mattress: Delivery, Sleep Trial, Returns
Delivery, Trial, Returns
Helix
Shipping cost:
Free in USA;
$150 in Canada
Shipping time:
3–7 business days
Sleep trial length:
100 nights
Return ease:
Company picks up
Refund:
Yes, full refund
Additional fees:
No
With the rising popularity of the bed-in-a-box, mattresses are now shipped far more efficiently and conveniently than when they could only be purchased from traditional retail stores. Customers are no longer required to take a day off work to accept a delivery as boxed beds are now delivered with the same convenience as most Amazon orders. Some bed-in-a-box companies even offer same-day delivery to certain areas.
Helix uses specialist logistics service UPS Ground to deliver their mattresses directly to customers' doors throughout the United States and Canada. In some cases, the delivery can even be left on a porch or deck while the customer is away from home. Shipping is free in the U.S. but subject to a $150 delivery fee to Canada. Helix customers can expect their new mattress to be delivered within 3 to 7 business days, excluding public holidays.
Like many bed-in-a-box companies, Helix heavily promotes their sleep trial. At 100 nights, this sleep trial is average in length. For customers who choose to return their mattress within the 100-day post-delivery window, the company offers free mattress pick up and a full refund when returned. Helix will arrange for lightly used mattresses to be delivered to a local charity or recycling facility, depending on regional restrictions.
It is worth noting that Mattress-Reviews.com did not complete the return process, but received this information via the FAQ page on Helix's website.
THINKING ABOUT AN ADJUSTABLE BED?
Take your mattress to the next level of comfort. Podium gives you more features and more convenience, all at a simply unbeatable price!
Free Shipping

Head + Foot Adjustability

Full-Body Massage

Zero-G Mode

Wireless Remote

4 USB Charging Ports

Extendable Legs

Tool-Free Assembly

Split-King Setup Available
Helix Mattress: Out of the Box
| Out of the Box | Helix |
| --- | --- |
| Delivered in a box: | Yes |
| Box dimensions: | 16" x 16" x 48" |
| Box opening: | Scissors required |
| Box/mattress fitting: | Tight |
| Protection layers: | 4 |
| Expansion time: | 2 minutes |
The Helix mattress was delivered to us within the expected  delivery time, however the box was slightly damaged upon arrival. This is normal of mattresses in boxes and is why specialist bed-in-a-box retailers include multiple layers of durable plastic protection to compensate for any mishaps during the transit process.
The Helix mattress was sealed well with heavy-duty tape. A pair of scissors or a knife is needed to open the box. Remember to be extra careful when using sharp objects to open the box.
Once opened, the compressed mattress is easy to remove from the box. A simple 'tip-and-pull' motion is what we recommend. Simply tip the box from a vertical position into a horizontal position and pull the mattress out of the box. We recommend doing this process in the room where you intend to use the mattress.
The Helix mattress is protected with four layers of heavy-duty plastic. Some helpful advice at this stage is to place the rolled mattress on to the designated bed frame, find the end of the outer layer of plastic, pull it loose, and use the momentum of unrolling the compressed mattress along the bed frame to remove the remaining packaging. After completing this process, customers will see a folded unrolled, but folded mattress. Simply unfold the mattress (the top cover will be facing up), and place the corners in the correct positions on the bed frame or foundation.
Next, cut the final layer of plastic and the Helix mattress will start decompressing. Remove this final layer of plastic and the mattress should expand to its full height soon enough. With the Helix mattress, full expansion took 2 minutes.
Helix Mattress: Construction
Construction
Helix
Mattress height:
10"
Number of layers:
4
Comfort layer:
2" Helix Dynamic Foam;
2" polyfoam
Transition layer:
2.5" pocketed micro-coils
Support layer:
4.5" base polyfoam
Cover materials:
Polyester
Machine washable:
Yes
Made in:
USA
Helix is a spring and memory foam hybrid mattress. By combining traditional pocket coils with different foam types, densities, and firmness levels, Helix has designed a configuration that offers reasonable comfort and support.
The ordering of the foam and spring layers determines the firmness based on your online quiz assessment. As a result, your experience may differ from the profile Mattress-Reviews.com has assembled based on the typical customer.
Regardless of the configuration, each Helix mattress includes four layers of support materials. Like many of the foam-coil hybrid mattresses on the market today, all layers in the Helix mattress work together to provide an overall level of comfort and support.
The first three layers of the Helix mattress are 2″ of Helix Dynamic Foam polyfoam, 2″ of high-grade polyfoam, and 2.5″ pocketed micro-coils. These layers differ in order and density depending on results from the pre-purchase online questionnaire. This creates a range of comfort responses and firmness levels.
The Helix Dynamic Foam polyfoam is designed to provide extra cushioning, while it ranges between 1.8 lbs/ft³ and 3 lbs/ft³ depending on the mattress.
The second polyfoam layer in combination with the previous layer helps to offer pressure-point relief. It has a consistent density between mattress types at 1.8 lbs/ft³.
The individually wrapped coils help to bolster edge support, while also playing a part in reducing motion transfer.
The final layer of the Helix mattress is 4.5″ of base polyfoam support foam. This support layer gives the Helix mattress its structure and prevents sleepers from sinking in too far. Its density is also 1.8 lbs/ft³.
The Helix mattress has a simple and attractive two-tone cover. The top surface is a swath of white polyester tightly tufted in a way that emphasizes its softness. This is a nice contrast to the navy blue sidewalls, stretching across the remaining portion of the mattress. Finally, the Helix 'H' logo is stitched front and centre along the end wall at the foot of the mattress.
When in need of cleaning, the top cover can be zipped off and processed through the washing machine. Since the cover rests snug across the mattress and the entire cover must be removed in order to wash it, we advise owners to be careful in this process to avoid damage to the foam edges.
Helix Mattress: Environmental Sustainability
Consumers are becoming more environmentally conscious when making purchases. Retailers both in and out of the mattress industry have been incorporating more eco-friendly and ethical policies when selling products and choosing suppliers. 
GoodMorning.com Inc.
carried out a survey in February 2017, discovering that almost 
50% of Canadians
 are willing to spend more money for more environmentally friendly products. Therefore, in every review on Mattress-Reviews.com, we will highlight each mattress company's green philosophy, as well as how prominent their policies are on their websites.
| Eco-Consciousness | Helix |
| --- | --- |
| Green policies: | No mention on the website |
| Social responsibility: | Returned mattresses are donated to charity |
| Box materials: | Cardboard with blue ink |
| Foam materials: | Polyurethane |
| Cover materials: | Polyester |
| CertiPUR-US®: | Yes |
| Green manufacturing: | No mention on the website |
Helix Mattress: Feel and Firmness
| Feel & Firmness | Helix |
| --- | --- |
| Feel: | Medium |
| Firmness | 6.1 / 10 |
| Edge support: | 2.5 / 10 |
| Motion isolation: | 6.7 / 10 |
| Bounce: | 6.6 / 10 |
The Helix mattress we tested has a medium firmness. According to the testing conducted by third-party engineers (commissioned by us), it comes in at a 6.1 / 10 on the firmness scale. The Helix mattress does not have excessive 'hug,' and the coil transition layer gives it a degree of sturdiness as you lie down. Its hybrid layer system, as well as its high density support foam, ensure there is no excessive sinkage. This is normal for a medium-firm mattress.
Motion isolation in hybrid mattresses is usually very good and one of the main considerations for customers who share their bed with a partner. According to the testing conducted by third-party engineers (commissioned by us), minimal motion transfer was detected with the Helix mattress: it ranks 6.7 / 10 on the motion isolation scale.
Innerspring mattresses are known for their edge support when compared with their memory foam counterparts; in fact, it is often one of the issues considered by customers who move from innerspring mattresses to foam. The Helix mattress scores below average in this regard. According to the testing conducted by third-party engineers (commissioned by us), it ranks 2.5 / 10 on the edge support scale.
Mattresses containing springs are known for having much better bounce when compared to foam mattresses. The Helix mattress had high rating for bounce relative to other foam mattresses we reviewed. According to the testing conducted by third-party engineers (commissioned by us), the Helix mattress ranked 6.6 / 10 on the bounce scale.
Helix Mattress: Price
Twin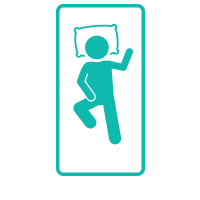 Twin XL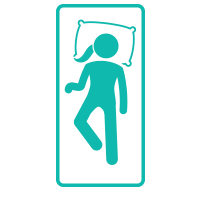 Double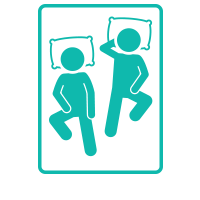 Queen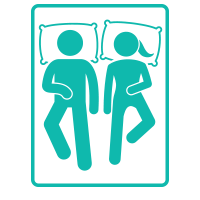 King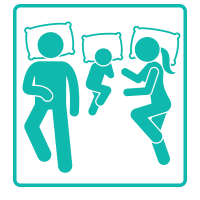 Cal King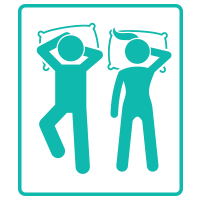 Helix Mattress: Overview
Overview
Helix
Price (Queen):
$995 USD
$1,300 CAD
Available in:
USA, Canada
Made in:
USA
Trial length:
100 nights
Warranty:
10 years
Number of layers:
4
Cover materials:
Polyester
Machine washable:
Yes
Green policies:
No mention on the website
Feel:
Medium-firm
Firmness:
6.1 / 10
Edge support:
2.5 / 10
Motion isolation:
6.7 / 10
Bounce:
6.6 / 10
Where to buy:
Online; showroom (NYC)
Who buys a Helix mattress?
Remember, Mattress-Reviews.com is owned, operated, and paid for by
GoodMorning.com Inc.
and advertises the
Novosbed
,
Douglas
,
Juno
,
Recore
,
Brunswick
,
Logan & Cove
,
Apollo
,
Cherry
, and
Podium
brands. The following is strictly our competitive opinion:
---
The Helix mattress appeals to shoppers who are willing to pay a little more for a memory foam mattress if it's customized to their sleep habits and body type. This might, however, also deter potential buyers, namely those who prefer testing a variety of mattresses rather than having a company make this decision on their behalf. Overall, the Helix is good medium-firm option with an attractive cover and a reasonable sleep trial.
Buy Helix if you want:
To choose firmness through survey responses


Up to 100 days to option a refund

A micro-coil hybrid mattress

A machine-washable cover

Made in the USA
New Mattress Reviews
7.6 / 10
Made in USA/Mexico
100-night trial
Queen: $1,375 CAD