Made In
Canada
Made In
Canada
Disclaimer: We are owned and operated by GoodMorning.com. We hire 3rd-party engineers and use public data to rate mattresses on over 30 criteria that we believe are important. Brands we own—Apollo, Brunswick, Cherry, Douglas, Juno, Octave, Logan & Cove, Novosbed, Podium, and Recore—are reviewed and advertised where indicated. Views expressed here are our opinions only. Full details.
GhostBed Luxe Mattress Review (2023)
The GhostBed Luxe is an all-foam mattress-in-a-box made by GhostBed, an American-based company that sells in Canada.
One firmness option
All-foam construction
Delivered in a box
Key Features
Made in Canada or USA

4 layers

Cooling gel foam

Free shipping, returns, & pickup*

101-night sleep trial

25-year warranty

6 sizes to choose from

Matching bedding and accessories

Will GhostBed's High Prices and Return Policies Scare Canadian Mattress Shoppers Away?
GhostBed is an American brand that initially launched with the GhostBed Classic in 2015. But there is one very important thing about this company mattress shoppers need to know before deciding to place an order with GhostBed.
Despite advertising a similar sleep trial to the rest of their online competitors, GhostBed does not offer free mattress pick-up, nor full refunds. As part of the standard purchase policy, GhostBed customers must arrange for their mattress to be picked up or donated in order for their return to be processed. If customers wish to return the "free pillows" that are included with each mattress order, they will need to do so at their own expense.
Recently, GhostBed has been the subject of a CBC News story regarding customers unable to return their mattresses for a refund, along with other customer service issues. These issues have resulted in poor ratings on the Better Business Bureau, Trustpilot, and Reddit, giving customers a good reason to be wary.
The GhostBed Luxe is GhostBed's premium cooling foam mattress. If you are keen on getting the most out of a mattress's features, your search may not be over. The mattress is medium-soft, which is an ideal firmness for lightweight individuals under 115 lbs; however, this firmness may be too soft for the majority of body types or comfort preferences. (Canadians are known for liking firmer mattresses than their U.S. neighbours.)
In addition to potential comfort issues, the soft mattress surface might negate the benefits of the cooling properties since your body will sink further into the mattress, and more of your body's surface area where heat escapes from is now surrounded with foam that traps that body heat close to the body.
The GhostBed Luxe is also considerably more expensive than most of its Canadian-based competitors. And those Canadian mattress brands also have better third-party ratings, with many of the same premium features as the GhostBed Luxe, and with more of the firmness that Canadians prefer. Two such mattress brands are Octave ($899 for a queen) and Douglas Summit ($1,299 for a queen).
Customers might be happy to see that the GhostBed Luxe is always on sale, or they wonder how high of a markup GhostBed has on their products. All of these factors could cause shoppers to question whether the GhostBed Luxe is worth choosing as their next mattress.
You'll Like This Mattress If You Want...
An all-foam mattress

A mattress with lots of 'hug'

Cooling features

A mattress from a North American-based brand
A long warranty (25 years)
Skip GhostBed Luxe If You Want...
A firmer mattress

Strong edge support

A mattress made with high-density memory foam

A hybrid mattress (springs or micro-coils)
To purchase from a company with an A+ BBB Rating
A mattress made in Canada

A machine-washable cover
Memory Foam Mattress With Advanced Cooling
CYBER THURSDAY SALE!
FREE Sheet Set, Pillow(s), Pillow Protector(s), and Mattress Protector with Mattress Purchase PLUS Other Discounts! (Up To $650 Value)
Sale ends November 30th. See website for details >
| | Octave | Ghostbed Luxe |
| --- | --- | --- |
| Rating ( /10) | 9.6 | 5.2 |
| Price (Queen) | $899 | $3,895 |
| Made in Canada | | |
| Cooling Copper Gel Memory Foam | | |
| Washable Cover | | |
| Multi-Zone Support | | |
| Trial (Nights) | 365 | 101 |
Table of Contents
Jump to any section by clicking the links below:
First Impressions: Straight Out of the Box
The Arrival
GhostBed Luxe can be purchased online from the GhostBed website. The mattress is also available at retailers like Amazon and Costco.
Shipping is free for Canadian addresses. The mattress usually ships within 24 hours and arrives within 2–7 business days.
The Unboxing
Like other bed-in-a-box mattresses, GhostBed Luxe is simple to unpack. Once unboxed, the mattress expands to 13 inches in height within a few hours. Although GhostBed customer service says the mattress corners may take 24–48 hours to fully decompress.
The Look
GhostBed Luxe features a dark grey and white fabric sidewall. On the GhostBed website, images show light grey stitching in diamond patterns on the sidewall, similar to the GhostBed Classic. Halfway up the sidewall, a grey piping strip with a zipper that circles entirely around the mattress. The GhostBed brand logo is attached to the bottom right corner at the foot of the mattress. The top cover is entirely white, with diamonds stitched into the pillow top. (Consider buying their mattress protector for $159 CAD because the top cover is not machine washable.)
The Feel
Sleepers who like mattresses with a moderate amount of cushioning and 'hug' will feel comfortable on GhostBed Luxe. (For more details, see the next section for testing conducted by third-party engineers.)
The mattress cover was soft to the touch but wasn't as cool as other customers who left a review on the GhostBed's website, and we were anticipating this based on the product's description. When you lie down on the mattress, the gel foam and Ghost Bounce layers work together to provide some cooling and a bit of bounce to help you shift into a different sleeping position.
Official Test Results: How Do Engineers Rate GhostBed Luxe?
The following results were determined by licensed 3rd-party engineers, commissioned by us:
To be able to accurately rate and compare the performance of the mattresses reviewed on this website, it was necessary to hire licensed 3rd-party engineers. Their independence and operating standards help to ensure the results remain unbiased, valid, and reliable. Each mattress was evaluated using the same strict methodology to protect the overall integrity of the results. The full report is linked below and has been given the official stamp of approval from a certified engineer operating under a strict ethical code of conduct.
*Be advised: Mattress testing conducted outside of this professional standard poses a greater risk of validity errors or reviewer bias.*
How Our Engineers Test Each Mattress:
| Test Scores | GhostBed Luxe |
| --- | --- |
| Firmness: | 4.5 / 10 |
| Edge support: | 3 / 10 |
| Motion isolation: | 7.4 / 10 |
| Bounce: | 2.9 / 10 |
GhostBed Luxe has a medium-soft level of firmness. According to the testing conducted by third-party engineers (commissioned by us), it is rated at 4.5 / 10 on the firmness scale.
With its moderate amount of sinkage, GhostBed Luxe should feel comfortable to lightweight sleepers, especially those who sleep primarily on their sides.
Keep in mind that most other online mattresses are slightly firmer than GhostBed Luxe, so they can better accommodate the comfort preferences of individuals who weigh more than 150 lbs. These are often described as 'medium-firm' mattresses.
According to the testing conducted by third-party engineers (commissioned by us), GhostBed Luxe's edge-support rating is 3 / 10. This score is slightly above average for all-foam mattresses tested on this site, but lower than innerspring or hybrid mattresses. Due to the structural rigidity of a spring or pocketed coil layer, innerspring and hybrid mattresses tend to have a higher edge-support rating.
Motion isolation in foam mattresses is usually very good and one of the main reasons couples make the switch from innerspring to all-foam. According to the testing conducted by third-party engineers (commissioned by us), GhostBed Luxe scored 7.4 / 10 on the motion isolation scale. This is a similar score to other foam mattresses tested on this site.
Foam mattresses tend to provide good motion isolation, which usually translates to a lower bounce rating compared to innerspring and hybrid mattresses. According to the testing conducted by third-party engineers (commissioned by us), GhostBed Luxe's bounce score is 2.9 / 10. 
Mattress Construction: What's GhostBed Luxe Made Of?
Construction
GhostBed Luxe
Mattress height:
13"
Number of layers:
4
Comfort layers:
1" Gel Memory Foam;
3" Cooling Gel Foam
Transition layer:
2" Polyurethane Foam
Support layer:
7.5" Polyurethane Foam
Cover materials:
Polyester, polyethylene
Machine washable:
No
Made in:
Canada or USA
GhostBed Luxe is available only in one firmness option, which is a similar approach to other bed-in-box brands like Casper and Douglas.
GhostBed Luxe Mattress Layers
GhostBed Luxe contains four layers of foam. Like other all-foam mattresses, the layers work together to provide a well-balanced level of comfort and support.
First layer: 1 inch of gel memory foam. This thin top layer of memory foam is sewn into the mattress cover, offering a bit of extra padding that conforms to your body as you lie down on the mattress. Layer density: Unspecified.
Second layer: 3 inches of cooling gel foam. This bright-blue-coloured foam is made of cooling gel. This layer can also help transfer heat away from the body. Layer density: Unspecified.
Third layer: 2 inches of polyurethane foam. This transition layer enables the mattress to attain its intended level of sinkage, support, and motion isolation by balancing the compression between the top comfort layer and the more rigid support layer below. Layer density: Unspecified.
Fourth layer:

7.5 inches of high-density base foam. This support layer helps give the mattress its structure and prevents sleepers from sinking in too far. Layer density: Unspecified.
Of note: Foam density information for GhostBed Luxe is not publicly available.
GhostBed Luxe Mattress Cover
The GhostBed Luxe mattress has a white-coloured cover with raised diamond stitching for added texture. The fabric is a polyethylene and polyester blend, which feels soft and should offer good breathability.
The top cover on GhostBed Luxe is NOT machine washable and cannot be removed. To spot-clean spills or stains, GhostBed recommends scrubbing with a mild detergent and cold water only.
Brand Bio: What's the Story Behind GhostBed?
Company Overview
GhostBed Luxe
Model Launched:
2018
BBB Rating:
C+ (Canada)
Read Reviews
Company HQ:
Plantation, Florida, USA
Ownership:
Nature's Sleep
Warranty:
25 years
Where to buy:
Online;
Assorted retail stores
GhostBed is a mattress brand owned by parent company Nature's Sleep — which Marc Werner founded in 2001. Marc was originally inspired to create a mattress after experiencing discomfort in bed following three neck surgeries. In addition to a full range of mattresses, GhostBed also sells branded bed frames, bedding, pillows, and other accessories.
Delivery, Sleep Trial & Returns
| Delivery, Trial, Returns | GhostBed Luxe |
| --- | --- |
| Shipping cost: | Free |
| Shipping time: | 3–10 days |
| Sleep trial length: | 101 nights |
| Return ease: | Customer must arrange pickup prior to refund |
| Full refund: | Yes |
| Additional fees: | No |
GhostBed uses FedEx to deliver to all parts of Canada, the delivery can be left outside while the customer is away from home. Shipping is free, even for customers in remote areas. GhostBed customers can expect their new mattress within 3 to 10 business days.
Like many bed-in-a-box companies, GhostBed heavily promotes its mattress sleep trial. At 101 nights, this sleep trial is average in length when compared to other online brands. However unlike their competitors, the company does not offer free mattress pick-up and a full refunds. Customers must arrange their own mattress pick up and attain a donation receipt. Any White Glove delivery, recycling fees, extended warranties and other service charges will not be refunded. Any GhostPillows can only be returned at the customer's expense.
NOTE: GhostBed has been the subject of a CBC News story regarding customers unable to return their mattress for a refund, along with other customer service issues.
It is worth noting that Mattress-Reviews.com did not complete the return process, but received this information via the FAQ section on GhostBed's website.
Social & Environmental Impact
| Eco-Consciousness | GhostBed Luxe |
| --- | --- |
| Green policies: | Mattress recycling program (depending on location) |
| Social responsibility: | Returned mattresses are donated to a charity (depending on location) |
| Box materials: | Bleached cardboard and coloured ink |
| Foam materials: | Polyurethane |
| Cover materials: | Polyester, polyethylene |
| CertiPUR-US®: | Yes |
| Green manufacturing: | No mention on the website |
Price and Size Listings: GhostBed Luxe
Twin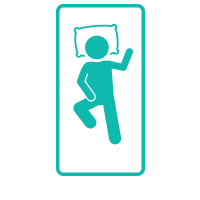 Twin XL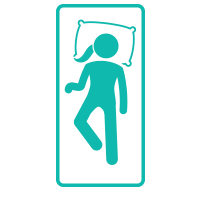 Double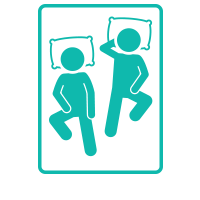 Queen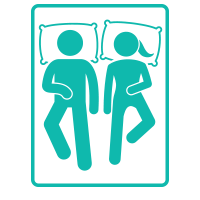 King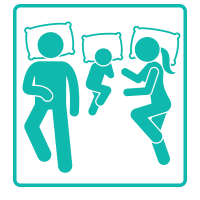 Cal King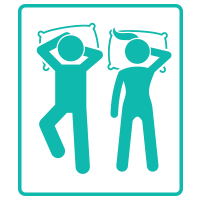 Rating Breakdown: How GhostBed Luxe Measures Up
We hire 3rd-party engineers and use public data to rate mattresses on over 25 criteria.
Where GhostBed Luxe Gains Points
Free shipping to major metro areas 




101-night sleep trial 

25-year warranty

Convenient boxed delivery

Cooling gel foam
Phase-change materials

CertiPur-US® certified foams

1,000+ verified customer reviews
Where GhostBed Luxe Could Improve
Have a more affordable price

More than one firmness option to choose from

Include a layer of high-density memory foam

Have a machine-washable cover

Better edge support
Full refunds
Arranged returns
A+ rating from Better Business Bureau or "Excellent
from Trustpilot
Final Thoughts on GhostBed Luxe
With an overall rating of 5.2 / 10, falls behind of many foam mattress competitors. That's largely due to its pricing, foam quality and limited number of customer reviews (mostly from U.S.-based customers).
At 3,895 (for a queen), GhostBed Luxe's regular price is much higher than many competitors, many of whom come in closer to or under the $1,500 mark. Then there is foam quality: This mattress does not include a layer of high-density memory foam, which generally is more durable and longer-lasting than conventional foam. Finally, GhostBed Luxe has less fewer reviews than its competitors, especially from Canadian-based customers. 
Although customers would be happy to learn GhostBed does not shy away from offering significant discounts, the frequency of these sales questions how high of a markup GhostBed has on their products. At regular price, the GhostBed Luxe is also considerably more expensive than competitors, with better third-party ratings and premium features like Octave ($899 for a queen) and Douglas Summit ($1,299 for a queen).