Disclaimer: We are owned and operated by GoodMorning.com. We hire 3rd-party engineers and use public data to rate mattresses on over 30 criteria that we believe are important. Brands we own – Apollo, Brunswick, Cherry, Douglas, Juno, Logan & Cove, Novosbed, Podium, and Recore – are reviewed and advertised where indicated. Views expressed here are our opinions only. Full details.
Overall Rating
The founders of Purple entered the highly competitive bed-in-a-box industry by taking their patented and Hyper-Elastic Polymer™ (a unique, pressure-relieving material) and applying it to mattresses. The Purple mattress competes directly with other online brands like Casper (USA) and Novosbed (Canada) for customers who enjoy the convenience of shopping online. Purple mattresses are made in the USA, retail at $999 USD / $1,399 CAD for a queen, and can be returned for a full refund.
Firmness
The Purple mattress is available in a single firmness option. According to the testing conducted by third-party engineers (commissioned by us), the Purple mattress rated at 5.5 out of 10 on the firmness scale.
Pros
Delivered in a bag with handles

Free shipping to most locations

100-night sleep trial

Free pillow with mattress purchase

Can be tried at multiple American locations
Cons
Cover is not machine washable

Only one firmness option

Canadians cannot try in store

No twin size

Full size doesn't match industry norm (it is 54" x 76")
The Novosbed is our Top Pick for PREMIUM MATTRESS UNDER $1,500. Novosbed is a high-quality, affordable, and extremely comfortable bed-in-a-box mattress. Each Novosbed purchase also comes with a 120-night trial, 15-year warranty, and full-refund guarantee.
Table of Contents
Jump to any section by clicking the links below:
How we reviewed the Purple mattress
As with all mattress reviews and comparisons on Mattress-Reviews.com, GoodMorning.com Inc. tests major online mattress brands to continually update and improve its own products. Analyzing the builds, brands, and specifications of competitor mattresses ensures GoodMorning.com always offers the best possible value to its customers.
To provide a consistent benchmark for our tests, we commission third-party engineers to test every mattress in the exact same way. You can view the methodology of testing and the APEGA-stamped results document here.
Without further ado, our Purple Mattress Review:
Purple Mattress: Company Overview
Company Overview
Purple
Launched:
2013
Price (Queen):
$999 USD
$1,399 CAD
Available in:
USA, Canada
Made in:
USA
Trial length:
100 nights
Warranty:
10 years
Where to buy:
Online
Founded in 2013 in the United States, Purple now sells their lineup of mattress and sleep accessories to both American and Canadian customers. Purple has made a name for themselves through viral videos, often featuring celebrities and extravagant characters to playfully identify the features of their products. Using an embodiment of Goldilocks as their spokeswoman, Purple boasts a sleep that is "just right." More recently, Purple launched the "All-New Purple Mattress," a hybrid follow-up to what is now referred to as the "Original Purple Mattress." As of the publication date of this review, the All-New Purple Mattress is not yet available in Canada.
Purple Mattress: Delivery, Sleep Trial, Returns
| Delivery, Trial, Returns | Purple |
| --- | --- |
| Shipping cost: | Free shipping |
| Shipping time: | 2–7 days |
| Sleep trial length: | 100 nights |
| Return ease: | Company picks up |
| Refund: | Yes, full refund |
| Additional fees: | No |
Thanks to modern compression methods and the rising popularity of the bed-in-a-box, mattresses can now be shipped far more efficiently and conveniently than ever before. Customers no longer need to take a day off work to accept a delivery. Boxed beds are now delivered with the same convenience as most Amazon orders. Some bed-in-a-box companies even offer same-day delivery to certain areas.
Purple uses specialist logistics companies like FedEx to deliver the Purple mattress directly to customers' doors throughout most parts of Canada. In some cases, the delivery can even be left on a porch or deck while the customer is away from home. Shipping is free for Canadians, and Purple customers can expect their new mattress to be delivered within 2 to 7 business days.
Like many bed-in-a-box companies, Purple heavily promotes their mattress sleep trial. At 100 nights, this sleep trial is average in length. The company also offers free mattress pick-up and a full refund for returns.
It is worth noting that Mattress-Reviews.com did not complete the return process, but received this information via the 'Live Chat' function on Purple's website.
THINKING ABOUT AN ADJUSTABLE BED?
Take your mattress to the next level of comfort. Podium gives you more features and more convenience, all at a simply unbeatable price!
Free Shipping

Head + Foot Adjustability

Full-Body Massage

Zero-G Mode

Wireless Remote

4 USB Charging Ports

Extendable Legs

Tool-Free Assembly

Split-King Setup Available
Purple Mattress: Out of the Box
| Out of the Box | Purple |
| --- | --- |
| Delivered in a bag/box: | Yes |
| Bag/box dimensions: | 15" x 15" x 64" |
| Bag/box opening: | No scissors required |
| Bag/mattress fitting: | Tight |
| Protection layers: | 3 |
| Expansion time: | 1 minute |
Purple's packaging differentiates itself slightly from the industry norm. Their mattresses are shipped in branded bags instead of boxes, making their mattress a "bed-in-a-bag." Delivery of the Purple mattress took 11 business days, longer than the expected 2 to 7 business day delivery time. The bag arrived in good condition with no visible damage.
The Purple mattress bag was well-sealed with a zip enclosure. Customers are provided with a tool to assist in opening the bag, but we found the zipper easy to slide and did not require the tool. The bag also has sturdy sewn-in handles which make moving the rolled mattress much easier.
Once unzipped, the compresses mattress was easy to remove from the bag. We recommend a 'tip, lift, and slide' motion to remove the mattress from its packaging. To do so, simply tip the bag into a horizontal position, lift the bag opposite the unzipped end, and let the mattress slide out of the bag. We recommend doing this process in the designated bedroom.
In addition to the external purple burlap liner, the Purple mattress is protected with one layer of heavy duty plastic and an additional layer of thin plastic wrap. Customers will need to unwrap the first layer of plastic in order to change the mattress from a cylindrical shape into its flat, albeit compressed, form. Some helpful advice at this stage is to place the rolled mattress on to the designated bed frame, find the end of the outer layer plastic, pull it loose, and remove the outer layer. Now, unroll the mattress – the top cover will be facing up – and place the corners in the correct positions along the bed frame or foundation.
Finally, cut and remove the final layer of plastic. The vacuum seal now broken, the mattress will begin to decompress. Remove this final layer of plastic as the mattress expands to its full height. With the Purple mattress, full expansion took around 1 minute. 
Purple Mattress: Mattress Construction
| Construction | Purple |
| --- | --- |
| Mattress height: | 9.5" |
| Number of layers: | 3 |
| Comfort layer: | 2" Polymer |
| Transition layer: | 3.5" Polyurethane foam |
| Support layer: | 4" Polyurethane foam |
| Cover materials: | Viscose, polyester, Lycra |
| Machine washable: | No |
| Made in: | USA |
Purple is a combination foam and polymer hybrid mattress. By combining different material types, densities, and firmness levels with their top layer polymer, Purple has designed a configuration that offers reasonable comfort, cooling, and support.
In Canada, the Purple mattress is available only in one firmness option, with Purple adopting the 'one-size-fits-all' approach often used by bed-in-a-box companies. In the United States, Purple also sells a hybrid mattress, though both products each have a single firmness.
The Purple mattress contains one layer of polymer atop two layers of foam. Purple's polymer layer works harmoniously with both foam layers to provide pressure relief and an overall level of comfort and support.
First layer: 2-inch patented Hyper-Elastic Polymer™ in Smart Comfort Grid™. This top layer is designed to eliminate pressure points and provide gentle support. The polymers grid pattern helps to promote airflow and regulate body temperature. According to Purple, the polymer material never breaks down.
Second layer: 3.5-inch polyurethane foam. This fast-responding transition layer helps prevent sinkage. This means that you feel like you are sleeping on top of the mattress rather than being hugged by it. Foam density: 1.8 lbs/ft3. 
Third layer: 4-inch polyurethane foam. The bottom support layer gives the mattress its structure and further prevents sleepers from sinking in too far. Foam density: 2.0 lbs/ft3. 
Of note: Purple uses lower-density polyurethane than some other bed-in-a-box retailers like Novosbed who use higher-density foams. Higher-density foams generally have a longer life expectancy than their lower-density counterparts.
The Purple mattress cover has an all-white design, similar to the look of the Tuft & Needle cover. The material used is very stretchy and breathable and complements the feel of the polymer material quite well. The embossed Purple logo on the sides adds a nice touch to the finished product.
The top cover has a zipper, allowing it to be removed for cleaning. But it is not machine washable. This could be problematic for anyone who chooses not to use a mattress protector, as well as if the mattress is not properly protected while moving. Basic care recommendations on the product website suggest spot cleaning the cover with a mild detergent as needed.
We did not find any mention of organic or natural materials being used in the cover on the website or in the fabric content breakdown on the law label.
Purple Mattress: Environmental Sustainability
Consumers are becoming more environmentally conscious when making purchases. Retailers both in and out of the mattress industry have been incorporating more eco-friendly and ethical policies when selling products and choosing suppliers. 
GoodMorning.com Inc.
carried out a survey in February 2017, discovering that almost 
50% of Canadians
 are willing to spend more money for more environmentally friendly products. Therefore, in every review on Mattress-Reviews.com, we will highlight each mattress company's green philosophy, as well as how prominent their policies are on their websites.
| Eco-Consciousness | Purple |
| --- | --- |
| Green policies: | No mention on the website |
| Social responsibility: | Returned mattresses are donated to charity |
| Bag materials: | Burlap |
| Foam materials: | Polyurethane |
| Cover materials: | Viscose, polyester, Lycra |
| CertiPUR-US®: | Yes |
| Green manufacturing: | Unknown |
Purple Mattress: Feel and Firmness
| Feel & Firmness | Purple |
| --- | --- |
| Feel: | Medium |
| Firmness: | 5.5 / 10 |
| Edge support: | 4.4 / 10 |
| Motion isolation: | 4 / 10 |
| Bounce: | 6.1 / 10 |
The Purple is a medium-firm mattress. According to the testing conducted by third-party engineers (commissioned by us), it comes in at a 5.5 / 10 on the firmness scale. Subjectively, the Purple mattress does not have excessive 'hug,' and the polymer layer gives it a degree of softness as you lie down. Its layers of supportive foam ensure you sleep on top of the mattress and not in it. This is normal for a medium-firm mattress.
Motion isolation in foam mattresses is usually very good and one of the main reasons couples make the switch from innerspring to foam. According to the testing conducted by third-party engineers (commissioned by us), a fair amount of motion transfer was detected with the Purple mattress; it ranked 4.0 / 10 on the motion isolation scale.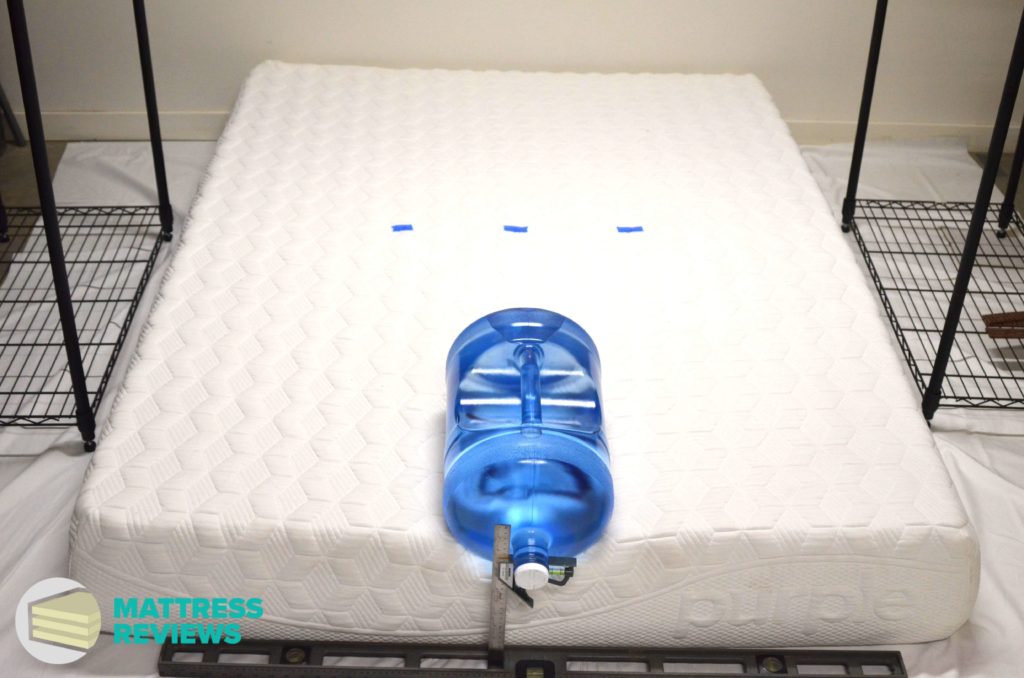 Foam mattresses are not known for their edge support; in fact, it is often one of the main questions for mattress retailers from customers who are considering the move from innerspring mattresses to foam. We found that the Purple mattress had average ratings in this regard. According to the testing conducted by third-party engineers (commissioned by us), it ranked 4.4 / 10 on the edge support scale.
Due to the fact that motion isolation for foam mattresses low, bounce is usually high. The Purple mattress is much bouncier than other foam mattresses, likely resulting from the polymer layer and the supportive fast-response foam in the second layer. According to the testing conducted by third-party engineers (commissioned by us), the Purple mattress ranked 6.1 /10 on the bounce scale.
Purple Mattress: Price
Twin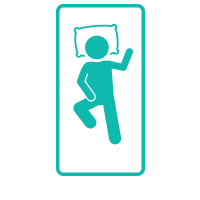 Twin XL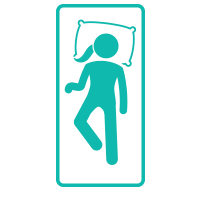 Double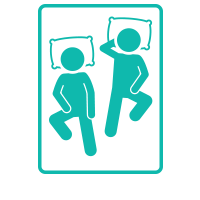 Queen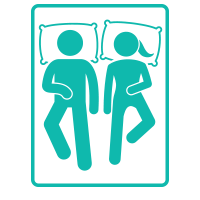 King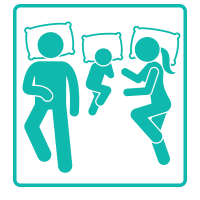 Cal King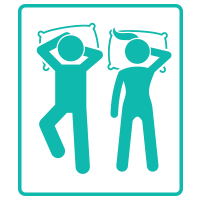 Purple Mattress: Overview
Overview
Purple
Price (Queen):
$999 USD
$1,399 CAD
Available in:
USA, Canada
Made in:
USA
Trial length:
100 nights
Warranty:
10 years
Number of layers:
3
Cover materials:
Viscose, polyester, Lycra
Machine washable:
No
'Green' policies:
No mention on the website
Feel:
Medium
Firmness:
5.5 / 10
Edge support:
4.4 / 10
Motion isolation:
4 / 10
Bounce:
6.1 / 10
Where to buy:
Online
Who buys a Purple mattress?
Remember, Mattress-Reviews.com is owned, operated, and paid for by
GoodMorning.com Inc.
and advertises the
Novosbed
,
Douglas
,
Juno
,
Recore
,
Brunswick
,
Logan & Cove
,
Apollo
,
Cherry
, and
Podium
brands. The following is strictly our competitive opinion:
---
Purple says their flagship mattress is based on 20 years of research, but they have not implemented any eco-friendly technologies into the product. Instead, they have instead chosen to implement a polymer material that "never breaks down." Before buying a Purple mattress, an eco-friendly shopper could consider a greener option.
Customers looking for a full-size or double mattress should be aware that the Purple does not match industry standard sizing, but may still accommodate oversize bed sheets.
Buy a Purple mattress if you want:
To sleep on an alternative sleep surface technology

A mattress with low "sinkage"

A durable top layer

A mattress made in the USA